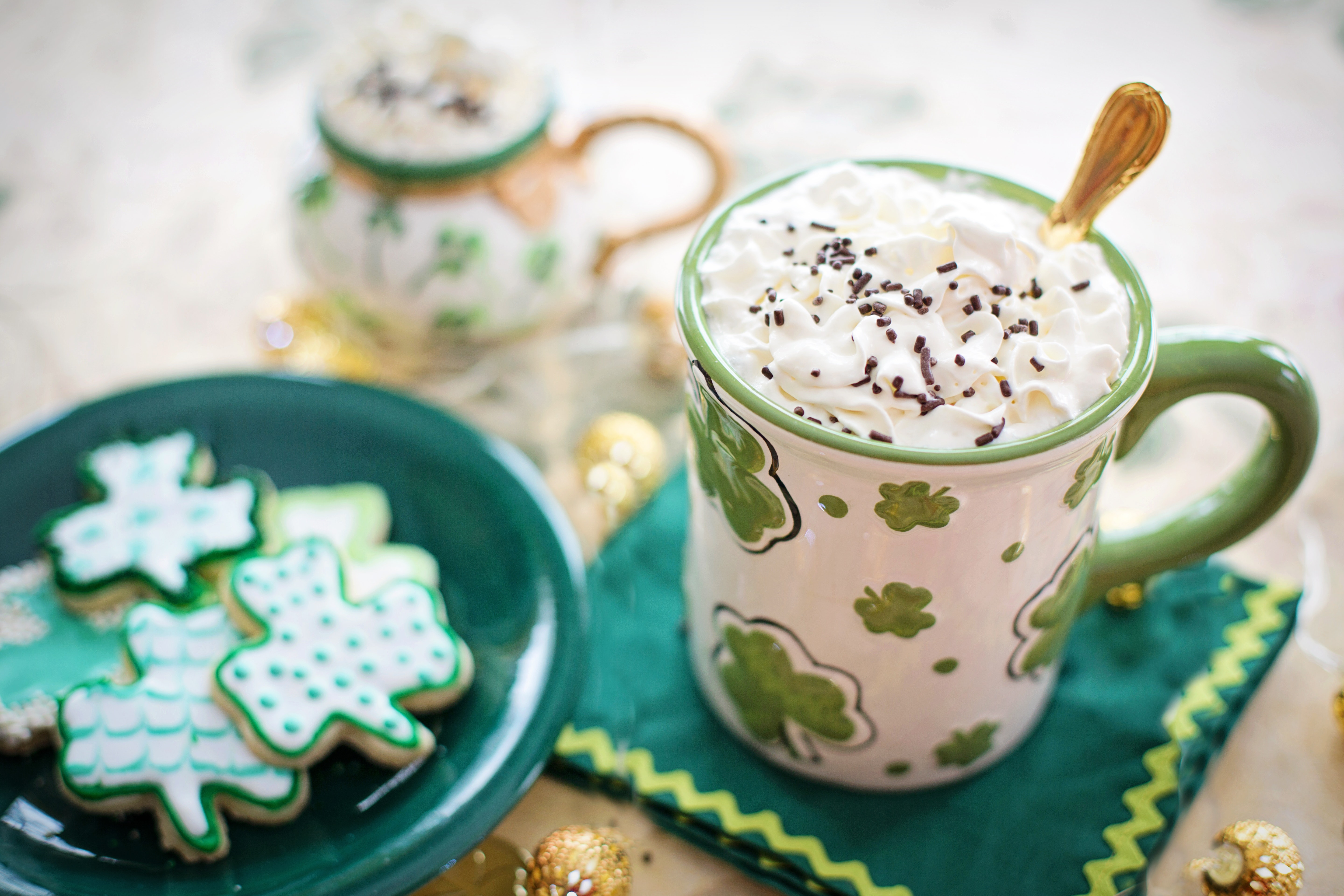 We put together some delicious yet healthy recipes, along with a couple of crafts to do as a family. Your St. Patrick's Day celebration may look different than previous years, but that's OK! It's the perfect opportunity to create new memories.
Are you looking for delicious and healthy St. Patrick's Day recipes? We've got ya covered!
Classic Irish Dish Roasted Garlic Colcannon
This side dish is excellent for those garlic lovers. To see detailed information about the Roasted Garlic Colcannon recipe from chef Rachel Allen, who teaches at the Ballymaloe Cookery School in Ireland click here.
Ingredients
1 large garlic bulb, left whole and unpeeled

2 tablespoons EVOO

Salt and ground black pepper (to taste)

1 sprig of rosemary

2¼ pounds (1 kg) baking or russet (floury) potatoes, scrubbed clean

1 pound (450 g) Savoy cabbage or kale

1 cup (250 ml) milk

4 tablespoons (50 g)

butter, plus extra to serve
Instructions
Preheat oven to 425°F.
Place the whole bulb of garlic in a small ovenproof dish, drizzle with olive oil, season with salt and pepper, and add the rosemary sprig.
Cover with aluminum foil for about 45 minutes until the garlic has completely softened.
In a large saucepan or pot, place the potatoes and cover with cold water. Add a pinch of salt, cover, and bring to a boil.
After 10 minutes, strain off two-thirds of the water, put the lid back on the pan, and simmer so the potatoes steam for about 30 minutes until tender.
If using the cabbage, remove and discard the dark, tough outer leaves. Wash the rest and cut into quarters, removing its core. Cut the cabbage across the grain into slices about 1/4 inch (5 mm) thick.
Place cabbage in another large saucepan, add the milk and simmer for about 4 minutes or until tender.
If using kale, cut out the tough center rib of the leaves, then slice and cook in milk as you would

the cabbage.
When the potatoes are cooked, peel them while still warm and mash them immediately with the butter and some salt and pepper.
Use your fingers to squeeze out the roasted garlic pulp and beat into the potatoes with enough boiling milk from the cabbage or kale to make a fluffy purée.
Drain the cooked cabbage or kale, stir into the mash, and taste for seasoning.
Meatless Main Dish
Avocado Alfredo Pasta is a low-calorie meatless meal that is actually high in protein and won't take all night to put together! Because avocados have a thick and creamy texture that lends itself so well, to both sweet and savory recipes, they are an excellent choice to replace heavy cream.
Ingredients
1 cu

p milk of choice

2/3 cup fully mashed avocado (160 g)

1/4 tsp garlic powder

1/2 tsp salt, or more to taste

2 tsp EVOO or buttery spread

8 oz uncooked noodles OR spaghetti squash, black bean pasta, steamed veggies, etc.

Nutritional yeast or Parmesan, such as vegan parma, for serving
Instructions
Whisk the first 4 ingredients and optional oil in a small saucepan.
If you are making your own pasta, bring a separate pot of salted water to a boil. Once boiling, cook pasta according to package directions. Drain fully (do not rinse with water), then set aside.
Heat the first small saucepan until the sauce thickens and begins to boil, then stir in the pasta and remove it from the heat. Serve immediately, sprinkling with nutritional yeast or Parmesan if desired.
Healthy Dessert
Have you ever met anyone that didn't enjoy a Shamrock Shake? Well now you can have one in just about 5 minutes that doesn't include 64 grams of sugar, like McDonald's small Shamrock Shake.
Ingredients
1 overripe large frozen banana

Cacao nibs

or chocolate chips, as desired

1/4 tsp pure peppermint extract

1 cup milk of choice

1/4 cup

frozen spinach (optional)

1/8 tsp salt to bring out the flavor (optional)
Instructions
Blend all of the ingredients in a blender until completely smooth. Make sure the banana is at least a little brown, so you don't get that unripe earthy banana flavor in your mint-chocolate shake! You can add the chocolate chips either before or after blending. Be sure to use pure peppermint extract, not imitation.
Why not enjoy those shakes while making a craft?
Your first choice is a paper shamrock.
How to make a paper clover
Supplies:
Hot glue gun (or other type of glue)

12 x 12 scrapbook paper in 2 shades of green (make sure it is double-sided paper)

Paper cutter

Ribbon, yarn, or string (for hanging)
Instructions:
Cut your paper into 1.5-inch wide strips. You will need 4 strips of each shade of green to make the shamrock leaves. Choose which color you want for the inside part of the leaves.
Cut the strips down to an 8-inch length. This will allow them to nest inside the larger part of the leaf. For the stem, you will need 1 strip of your color choice.
Fold your strips in half. Then curl each strip and glue the ends together to form a heart.
To assemble the leaf, place a line of glue in the fold of the larger heart. Place a small heart into the fold.
On the smaller heart, put a line of glue where the ends come together. Place the ends of the larger heart into the smaller heart to connect them. Repeat for all the leaves.
To assemble the shamrock, glue the hearts where the points come together. Make sure the stem is in the middle of the shamrock. Here is the layout for putting it together. You can curl the stem just a bit, so that way it doesn't stick straight down.
If you want to hang it, attach a ribbon or yarn to the shamrock. You can either glue it in as part of your shamrock, or string it through the shamrock itself. This craft came from www.midwesternmoms.com; visit her site directly for more details!
If you are looking for a printable you can easily print and cut out, here is a DIY Leprechaun hat!
If you are interested in the meaning of St. Patrick's Day and the Shamrock, check out this detailed explanation.
Irish Blessing Poem
May the road rise up to meet you.
May the wind be always at your back.
May the sun shine warm upon your face;
the rains fall soft upon your fields and until we meet again,
may God hold you in the palm of His hand.
Go Green with MDLIVE! Click here for steps on how to use this easy and convenient telemedicine feature.
The Impact team wishes you a very happy St. Patrick's Day!