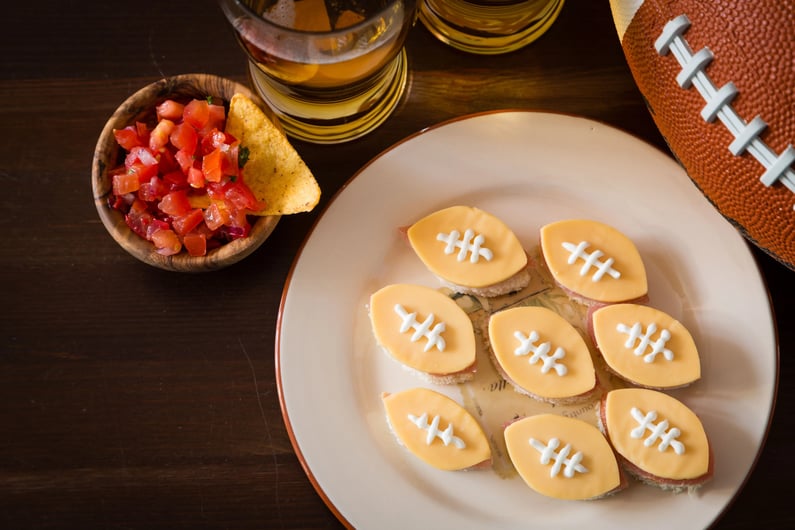 Football Food Prep Ideas
It's football season and that means game day get-togethers and parties. If you are tired of serving the same old thing like store-bought wings, try switching things up with these delicious foods.
This one is always a fan favorite, is easy to double, and let's face it, who doesn't love a good dip?
Sausage Dip
Ingredients:
1 pound sausage, such as Jimmy Dean
1 (10-oz) can Rotel diced tomatoes and green chilies, undrained
1 (8-oz) package of cream cheese, cut into chunks
Instructions:
In a large skillet over medium-high heat, cook sausage until crumbled and no longer pink. Drain. Add Rotel and cream cheese to skillet. Stir until cheese melts. Serve warm with tortilla chips.
The Best Crockpot BBQ Chicken
Ingredients:
2 lbs boneless skinless chicken breasts
1 cup BBQ sauce
1/4 cup Italian dressing
1/4 cup brown sugar
1 tbsp Worcestershire sauce
salt to taste
Instructions:
Season chicken breast with some sea salt and place in crockpot.
In a mixing bowl, combine BBQ sauce, Italian dressing, brown sugar, and Worcestershire sauce.
Pour over chicken, cover, and cook on HIGH for 3-4 hours.
You can serve the breast whole or shred it with 2 forks. If you choose to shred the chicken, recover and let cook in the sauce for another 10-15 minutes to soak up all that yummy flavor.
Serve on buns, over rice, in wraps, on a salad.
Pull Apart Pizza Bread
Ingredients:
12 oz refrigerated flaky biscuits
1 Tablespoon olive oil
16 slices of pepperoni quartered
1 ½ cups shredded mozzarella cheese
¼ cup grated Parmesan cheese
1 teaspoon Italian Seasoning
1 teaspoon onion powder
¼ teaspoon garlic salt
pizza sauce for dipping
Instructions:
Preheat the oven to 400F degrees. Spray a bundt pan with nonstick cooking spray.
Cut each biscuit into 4 pieces, place in a bowl. Toss biscuit pieces with oil and set aside.
In a separate bowl, combine the remaining ingredients; mix well.
Add biscuits; toss well to coat. Arrange in the prepared Bundt pan. Bake at 400F degrees for 15 minutes (or until golden). Turn bread out of pan onto a serving plate while still warm.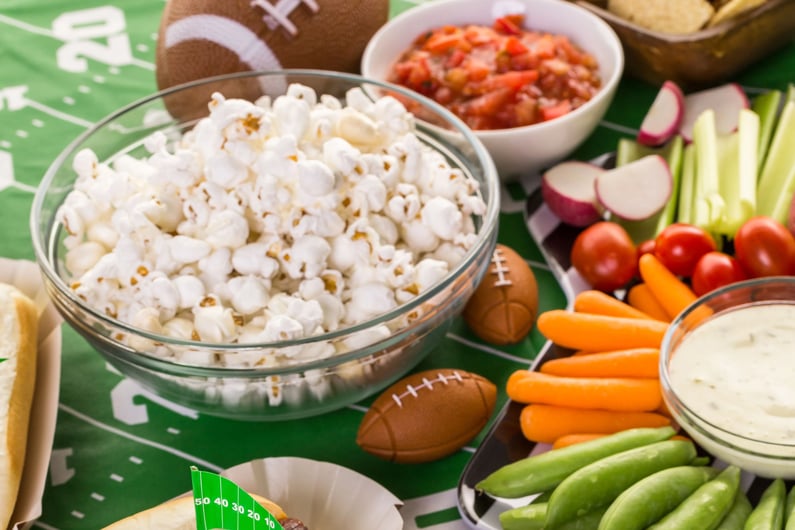 Sausage Balls
Ingredients
1 pound sharp Cheddar cheese shredded
1 pound ground pork sausage
2 cups biscuit baking mix
1 tablespoon freeze dried chives ( optional)
1/4 cup milk (if needed)
Instructions:
Preheat your oven to 350 °F. In a large bowl, combine the ground sausage, biscuit baking mix and shredded cheese. Form into 24 golf ball sized balls and place on baking sheets.
Bake in the preheated oven for 20 to 25 minutes, until golden brown and the sausage is cooked through entirely. Remove and serve hot!
Party Snack Mix
You can get creative with this one and pick and choose the ingredients you like best. Here are some suggestions to get you started.
Ingredients:
1 Packet Ranch Seasoning (Store Bought)
8 Tablespoons Unsalted Butter
2 Tablespoons Light Brown Sugar
1 Tablespoon Worcestershire Sauce
3 Cups Chex Cereal
2 Cups Pretzel Sticks
2 Cups Popcorn
2 Cups Bugles
1 Cup Gold Fish
1 Cup Peanuts
Instructions:
Preheat the oven to 225 degrees F and cover a sheet pan with parchment paper.
In a large bowl, combine the Chex, pretzels, popcorn, bugles, goldfish, and peanuts; set aside
In a small saucepan, combine the ranch seasoning, butter, light brown sugar, and Worcestershire sauce.
Warm on low heat until the butter is fully melted and the brown sugar is dissolved
Pour the butter sauce over the snack mix and gently stir until each piece is coated in the sauce
Pour the snack mix onto the prepared sheet pan and spread out evenly
Bake for 40-45 minutes, remove from the oven and allow the snack mix to cool completely before serving.