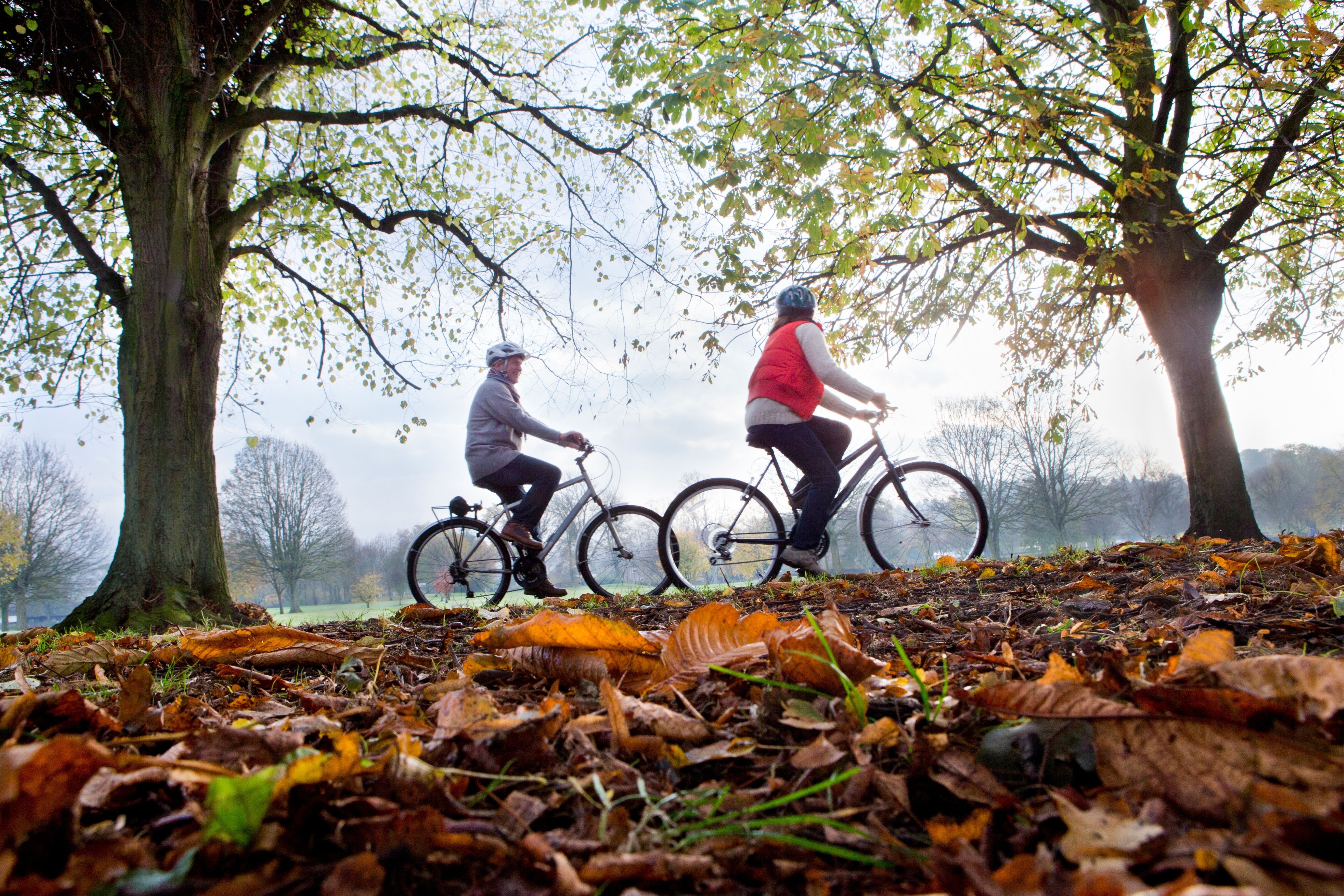 The heat and humidity are starting to dissipate, making it the optimal time to get those workouts outdoors. Fall typically brings lower temperatures, cool breezes, not to mention beautiful scenery.
If you haven't worked out in a while, always check with your physician before starting something new and address any former injuries that may require alternative workout routines.
Important reminders any time you do physical fitness.
1. Hydrate.
A good habit to keep is to drink about two cups of water an hour or two before starting your workout. Drink seven to ten ounces while working out, and follow up with at least eight ounces of water, at least thirty minutes after completing your workout.
2. Set goals.
While this is not necessary, it can be encouraging to focus on measurable goals and come up with a few rewards as you meet them. This will help keep your morale and motivation strong.
3. Use available tools.
If you don't have an app to help track your fitness goals, we have a few popular suggestions.
Check out some or all of these great options to get those fall workouts in.
Hiking
The cardio benefits of hiking are huge! If you don't have room in your budget for a gym membership and you enjoy being outside, hiking is a great choice. Having the right gear is going to be important to invest in, as well as good footwear and a water bottle. You can check out websites to find trails like TrailLink, TrailsNearMe, or Google your county, plus the words hiking trails.
Canoeing/Kayaking
One hour of kayaking can burn four hundred calories! It shouldn't surprise you that kayaking is one of the top calorie-burning exercises. It's also a great way to mix things up and make reaching your fitness goals fun. Canoeing and kayaking are both low impact activities that help to improve your aerobic fitness, strength, and even flexibility.
Biking
If walking and running cause you pain, then bicycling is a great alternative. It's much easier on your legs, ankles, and knees. Biking has a lower impact on your muscles and is a lower risk form of cardio, as long as you keep those legs pumping. Biking is great for any age, and because you can keep exploring new places, it's easier to continuously feel exciting and new.
Team Sports
Another option to have fun while burning calories is joining a team. There are local meet-ups at various levels, ages, and activities, that happen year-round just about everywhere. Sports leagues are a great way to meet people and get in shape at the same time!
Walking
Walking in the fall should be relaxing. Enjoy the scenery, cooler weather, and fresh air. Your body will absorb the oxygen and sunshine, which will help you feel good. Walking is a great way to maintaining a healthy weight or lose weight if you stay consistent. If you are just starting, walk at a slow pace and don't focus on how far you go; commit to 15 minutes and add 5 minutes each week. Walking burns a lot of calories and strengthens your bones and muscles. Walking will also boost your mood and reduce depression.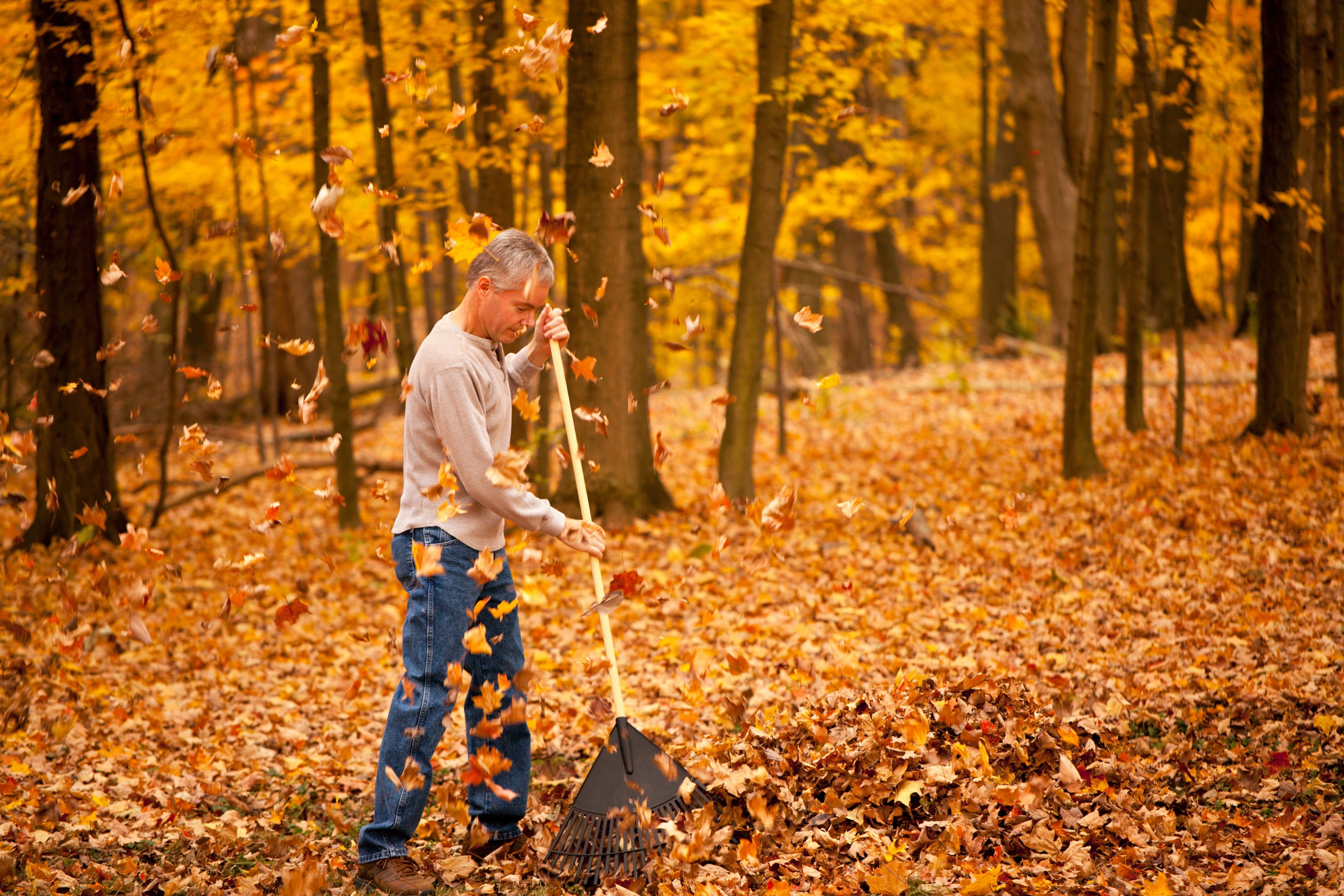 Raking
Raking leaves is considered a moderate physical activity similar to a brisk walk, helping to build upper-body strength, core strength, and back and stomach muscles. Remember, when you are bending down, flex your knees rather than bend your back. Rake small piles of leaves and put them in a container for disposal so that you are frequently changing your body positions using various muscle groups, which will help prevent injury.
Volunteer
There are many non-profits that are always looking for volunteers. One option that will certainly help you stay fit in the fall is looking for a horse farm that may offer therapy. There are some amazing organizations that help children and teens, whether they have autism, sensory challenges, or behavioral issues, that would love to have volunteers keep their place running.
If you struggle to stay motivated and consistent with your workouts, then you just may be doing the wrong activities. Find something that you enjoy, it just may be a group workout at a local gym instead of an outdoor activity, and that's OK.
If you need a personal trainer to keep you accountable, sign up and prepay for multiple sessions so you are more likely to stay committed.
Not everyone wants to work out every day, so find out what works for your schedule and keep that body hydrated and moving!
If you are looking to burn fat, check out these strategies.