12 Free Things to do with the Kids this Summer
1. Put together and enjoy a boredom bucket. This option lets you be creative and cater to what your child may like. Add things like writing a story, blowing bubbles, doing an art project, inviting a friend over, and any other ideas you may have.
2. Go to the Park.
There are typically endless parks in each county. Pick a few that you have not been to yet and do some exploring! Pack some food items and make a day of it!
3. Visit the Library.
Often times your local libraries have free events for all different age groups. The kiddos may say they will be bored, but once they get to the library, they forget all about boredom!
4. Make Popsicles
Pour some of that Kool-Aid in the ice trays or in some small cups (juice works well, too!). Add a spoon for a holder and pop them in the freezer. In a few short hours, you can enjoy delicious popsicles.
5. Have a Garage Sale
Have fun (and make money) getting rid of all of your unwanted stuff. Your house will feel so much cleaner and better organized after all the excess items are out of it. A successful garage sale helps you meet your neighbors too.
6. Volunteer
Find a local person or organization in need (it could be your older neighbor). Offer to help for an afternoon. Children can sometimes shy away from this activity, but most of the time, they walk away blessed by giving their time to those in need.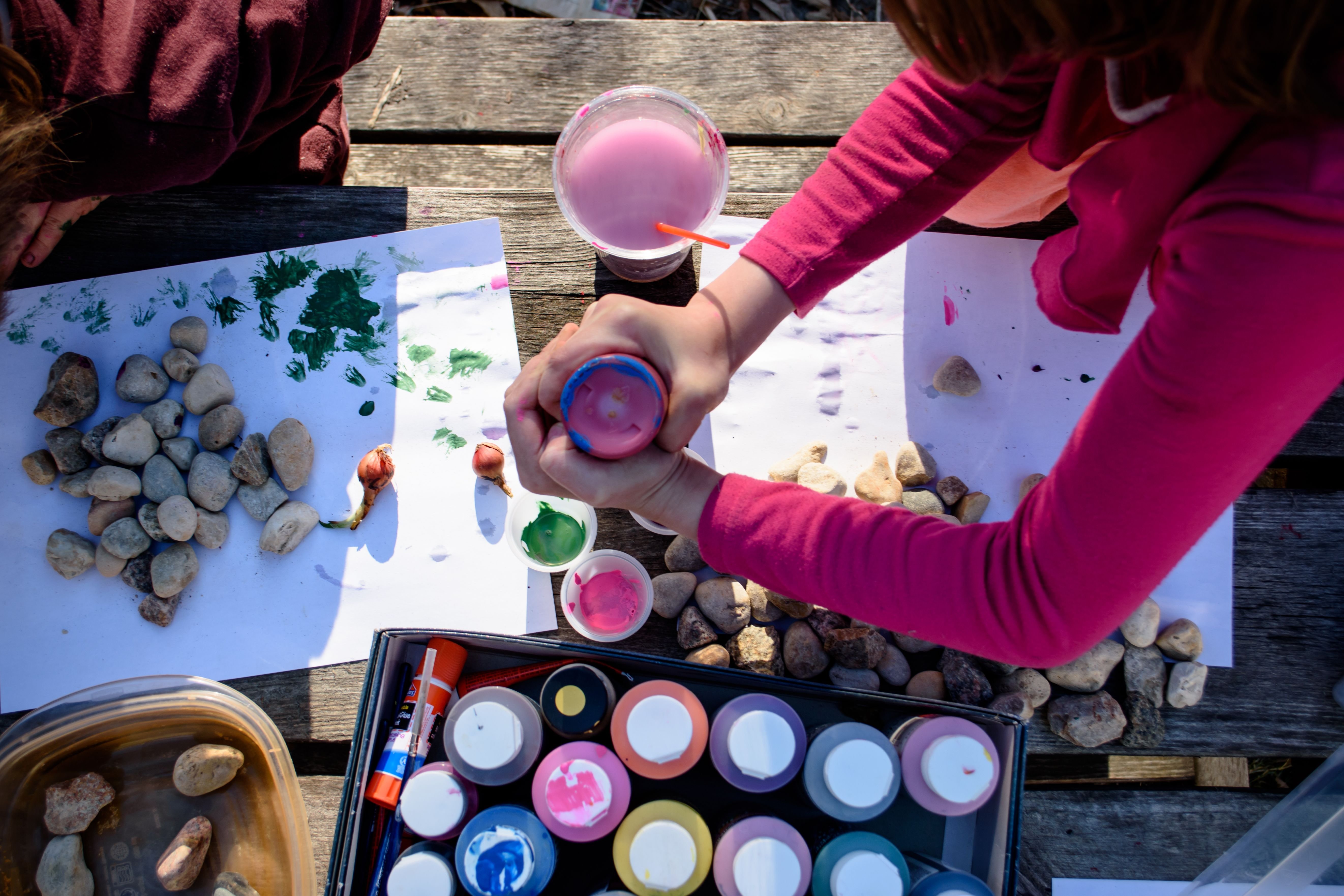 7. Go to the Beach
If the beach is not more than a day trip away, grab your swimsuit, sunscreen, and snacks and have a fun, frugal outing. Bring a towel, some sunscreen, and lots of liquids to stay hydrated, then take a dip.
8. Go Fishing
Find an ocean, lake, river, pond, or puddle, and start fishing. Make sure fishing is allowed at that location. Borrow equipment or spend a little money to rent it from the bait shop.
9. Church Camp
If you are a member of a church, ask about any summer camp opportunities. They are always free and typically involve games, snacks, and crafts, and new friendships are often formed.
10. Paint Rocks.
This fun activity allows each person to be creative. You can choose to put encouraging words and images on them and leave them around town for others, or you can add them to your garden.
11. Kite-flying.
Take it from Mary Poppins. Flying a kite is fun! You can make your own or buy one.
12. Free movies. Check with your local theatre to see if there are free movies for the summer. Many times they offer a new movie weekly. You can enjoy the airco while your kids enjoy a movie they may not have seen!
Having fun doesn't have to break the bank. Enjoy this precious time with your kids because they won't be young forever!