Don't you love moms? They are pretty awesome and often support and sacrifice for people beyond their children. Mother's Day should be set aside to honor the mothers in your life. So, make them feel special and loved this coming Mother's Day with one or multiple gift options listed below.
If your mom loves to binge-watch a television series, then she'll appreciate an Amazon Fire TV Stick. This gives her access to Netflix, Disney+, Apple TV, HBO, and more.
Believe it or not, moms are always looking for new beauty tools that give them back a few precious minutes. The Revlon Hot Air Brush has more than 250,000 positive reviews on Amazon and has earned a 4.6-star rating. If the mom in your life likes to style her hair, this may be her favorite gift yet!
Terry Cloth slippers with an orthotic footbed are a cozy choice. These slippers come in a variety of fun colors and have amazing reviews.
This organizer holds jewelry, but you would never know it because it's also a mirror cabinet. There are various places to purchase this item, and, it comes in different styles and colors.
The Cushion Lab has an ergonomic cervical pillow that is on sale for Mother's Day. This pillow is great for side sleepers! A well-rested mom is a happy mom! Throw in an eye mask for a little padding for her eyes.
Keep it simple and give her a new coffee mug. There are some really creative designs available, along with some funny ones.
Keep mom safe with this cell phone car mount. Watch out for ones that may block her view. It can be distracting when your cell phone falls on the floor while driving. With a car mount, she knows where her phone is at all times.
The Tile Bluetooth tracker is perfect for any mom. This tracker helps to find lost keys, wallets, phones, or anything else that is important. Check out the options here.
Does your mom like fresh herbs? Grab an AeroGarden perfect for year-round herbs and veggies. Kohl's has affordable options that may even have discounts for Mother's Day.
If you want to show off a little bit, you can grab the Ember Mug from Bed Bath & Beyond. This smart mug will keep her beverage hot and even comes with a coaster.
If you'd rather give mom a gift card, get a little bit creative and get a food delivery gift card or pay for a monthly streaming service.
For gifts that won't break the bank try this acupressure mat and pillow set that claims to reduce pain reduction and promote relaxation and stress relief. With over 31k reviews, this seems to be both an affordable and excellent choice.
The Gua Sha tools have grown in popularity lately, and for under $20, you can grab a set for your favorite mom! You may find even more affordable options at local stores. But if you like the convenience of ordering online, this is perfect!
Many moms still love flowers. Both cut flowers or a flower she can plant; you can't go wrong! Orchids, roses, hibiscus, and the christmas cactus are some of the best-potted flowers to gift then plant!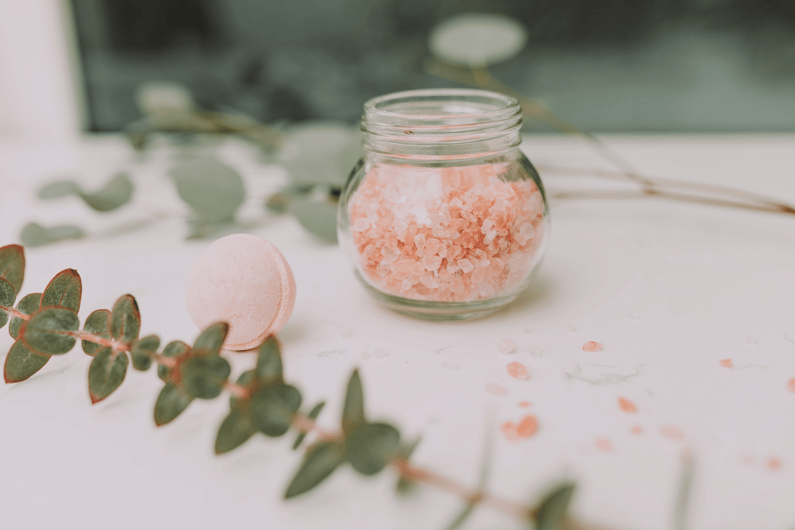 DIY Gifts for Mom
If your mom would rather receive a gift that was homemade, here are a few ideas that will warm her heart!
DIY stress-relieving bath soak
Lavender is known for calming and relaxing, and you can often find it in bath and beauty products. Mix 20 drops of lavender essential oil to 2 cups of Epsom salt and 2 tbsp. almond or jojoba oil. Once blended, scoop the mixture into a container of your choice with a lid. Epsom salt helps to reduce inflammation and ease stress. Write a little note and tie a ribbon around your container and bless mom with this thoughtful gift.
Beaded suncatchers
Grab some translucent pony beads, a metal baking dish or cake pan, and your toaster oven or an outdoor grill. Arrange beads in your dish in a single layer with a design of your choice. When melting the beads, it is best to do this outdoors, as inhaling melting plastic is not great to breathe. You can always take your toaster oven outside. Melting the beads should only take about 10 minutes. Let the suncatcher cool, then pop it out. If you plan on hanging your suncatcher, drill a small hole and add some string. Then it's ready to go!
Thank you card
Sometimes a handwritten thank you card can be powerful! Taking time to put your thoughts and appreciation handwritten in a card can bless a mother's heart.
Spending a lot of money does not mean you love someone more. The thought and effort put into a gift are often more rewarding than an expensive gift. Some mothers will tell you they would simply like someone to cook and clean for a day, giving them a much-needed break.
Enjoy Mother's Day with those you love and make it a celebration of gratitude!
"We cannot all do great things. But we can do small things with great love." ~ Mother Teresa
If you want to surprise your mom by cleaning the house, hop over to our spring cleaning blog filled with tips and tricks.