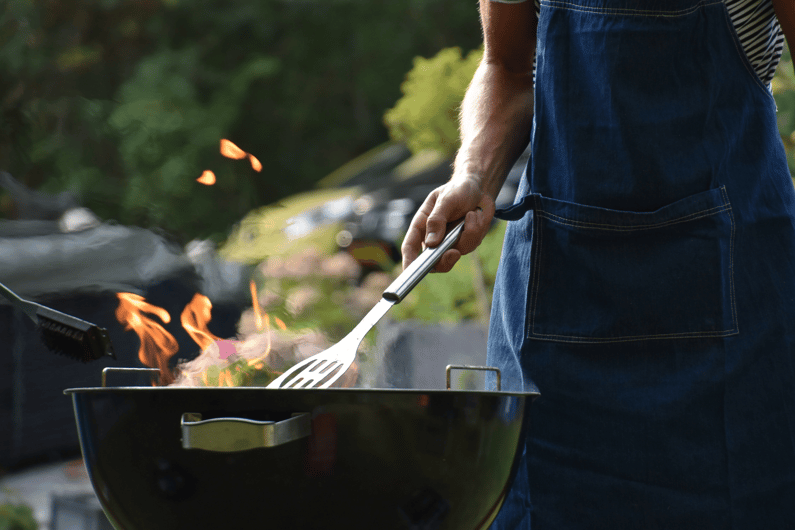 Have you started using your grill yet? There is much more to the grill than hamburgers and hotdogs, and plenty of healthy options, including many vegetarian dishes. So get that apron ready!
May is a month full of celebrations, and there is a handful that goes well with barbecues.
For instance, May is also:
National Hamburger Month

National Egg Month

National Strawberry Month

National Salsa Month

National Salad Month

National Asparagus Month
Cooking on the grill is excellent for numerous reasons, including:
Fewer dishes! We have your attention, don't we? The grill requires a lot less cookware which means fewer things for you to wash.




Tastes better. Cooking on the grill offers endless flavor options. Smoky, char, grilled.




It's fun! Grilling is fun, and you get to be outside. How often do you get stuck in the kitchen while everyone is hanging outside? This solves that problem!




It keeps the house cooler. Less heat in the kitchen means less heat in the house in general.




Less mess in the kitchen!




Quick! Typically cooking on the grill is faster than using the oven.




Feels special. If you live in an area that only allows you to enjoy the outdoors during spring and summer, then cooking on the grill feels extra special because you have to wait to use it.
Grilled Cauliflower Steaks
INGREDIENTS
1 medium head of cauliflower, slice 1/2-inch thick

1/4 cup olive oil

4 cloves garlic, minced

2 tablespoons soy sauce

1/2 teaspoon thyme

1/2 teaspoon chili powder

1/2 teaspoon onion powder

Salt to taste

Black pepper to taste

1/2 cup Parmesan cheese (cheddar would work great too)

2 tablespoons minced parsley
INSTRUCTIONS
Make sure your grill grates are clean before getting started. Pre-heat grill to medium-high.
In a bowl, combine the oil, garlic, soy sauce, herbs, chili powder, and onion powder. Brush both sides of the cauliflower slices with the mixture. Sprinkle salt and pepper on the top of the cauliflower steaks.
Carefully place cauliflower steaks on the grill. Cook the steaks for approximately 2-4 minutes on each side or until the edges are crispy. Gently flip the cauliflower to try to keep them as a whole large slice.
Remove from the grill and sprinkle with cheese while the cauliflower is still hot, so the cheese starts to melt. Sprinkle with parsley or cilantro, and enjoy!
Healthy Barbecue Sauce
INGREDIENTS
1/2 teaspoon olive or coconut oil

2 garlic cloves, minced

1/4 cup yellow onion, chopped small

1 (15 oz.) can tomato sauce

2 tablespoons tomato paste
3 tablespoons maple syrup

1 ½ tablespoons molasses

1 teaspoon apple cider vinegar

1 teaspoon tamari

1 teaspoon Dijon mustard

1 teaspoon sea salt

1/2 teaspoon paprika

1/4 teaspoon cayenne pepper

1/2 teaspoon chili powder

1/2 teaspoon ground pepper

Dash of cinnamon
INSTRUCTIONS
In a medium saucepan, add the oil, then garlic and onion. Sauté for about 5 minutes over medium heat. You should stir the mixture often and keep an eye on the garlic so that it doesn't burn, which can happen quickly.

Add tomato sauce, tomato paste, maple syrup, molasses, apple cider vinegar, tamari, and mustard into the pan and stir.

Add

in

the seasonings and spices: salt, paprika, cayenne pepper, chili powder, ground pepper, and cinnamon. Stir.

Once the mixture comes to a simmer, cook for about 12 minutes over medium-low heat, stirring frequently. If the mixture starts to boil and splatter, the heat is too high.

Enjoy immediately or let it cool, then refrigerate.
Pair this sauce with chicken breast or salmon, and enjoy!
You may want to mark your calendars because Father's Day will be here next month. If you haven't shopped for a grill in years, there are some very cool and affordable options available, like the Blackstone, which makes cooking and cleaning up a lot easier.
https://unsplash.com/photos/KIbVurFwz7k
If you aren't in the market for a new grill, then why not get a head start on Father's Day and order some grill gadgets. We've done all the legwork for you and picked out some of our favorites.
This magnetic LED light magnet is super bright and flexible and even weather-resistant! For under $20,

this is a steal

!
This

grill kit

comes in an aluminum case and has just about everything you need to grill at home or even when you are camping!
This

steaming grill brush

gets the grill grates perfectly clean, removing any food residue left from your previous dish. The steaming eliminates the need to scrape or use harsh chemicals!

Grill accessory organizer

- this may be an item you had no idea you needed. This handy organizer clips to the side of your grill, giving you easy access to all your tools and seasonings!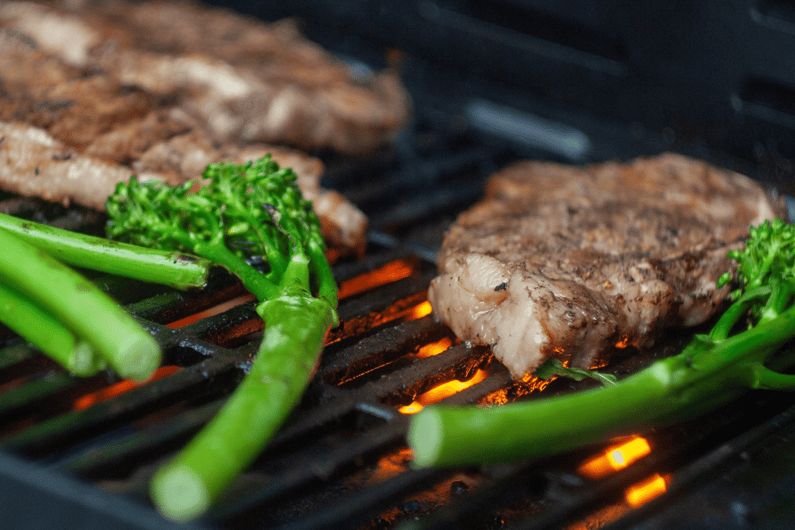 Are you hungry yet? The summer is quickly approaching and the opportunity to spend time outside only increases. Don't miss making new memories with the ones you love. Take time to enjoy the good weather, good food, and relaxing environment.
We would love to know what grill you like the most and what your favorite recipes are when it comes to using a grill!
Enjoy life, eat well, and laugh often!
If you find yourself saying you don't have time to grill and relax with the family, then read our post that provides 10 ways to improve time management skills. You only live once! Enjoy it!